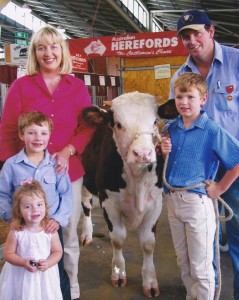 Our aim has always been to produce stud Hereford cattle that are commercially viable, suitable for domestic, export and feedlot markets. The service and support we provide to our clients is a top priority.
It is important to our operation that they are good, easy doing cattle, low maintenance and have good temperament.
KIRRAWEENA
Kirraweena Hereford Stud was founded by the late Fred Bush in 1953.
Commercial attributes have always been the top priority. Originally using Cuppa sires, rich in Vern (English) blood, they produced a line of easy doing cattle of a rich ruby red colour with females having plenty of milk.
Kirraweena cattle have been exhibited at every Royal Easter Show since 1955. Kirraweena has taken out numerous hoof and hook awards at both local and Royal Show level in mainly supermarket weight (300-420 live) classes.
Kirraweena Herefords are the only stud to have exhibited at every Wodonga Hereford Show & Sale, since it started.
GLENHOLME
Glenholme was founded by Geoff & Heather Bush in 1993. Formed with cows from Strathglee, Kirraweena, Tumulla and Lylen Studs. Females from the Field's Tiverton Stud and Smithston have been purchased.
A Poll Hereford herd was formed in 2003 to breed good commercial Poll Cattle.
Glenholme & Kirraweena Studs are currently joining 160 females annually.